What if Roland Barthes had been a local tourist? In his new video piece "Sight Leak" (2022), Chinese artist Peng Zuqiang re-imagines the French author's travel notes from the perspective of a domestic traveler.
Roland Barthes' travel diaries "Carnets du voyage en Chine" were not published until many years after his death. In the early 1970s, the influential French philosopher and writer went on a trip to China with a small group of leftwing intellectuals associated with the "Tel Quel" literary journal, as at the time some authors and writers sympathized with Mao Zedong's Cultural Revolution. Upon returning from the trip, Barthes himself only published a short article in "Le Monde", while his travel companions shared their experiences in books and series of articles. His posthumously published notes are characterized by discontent and boredom with the trip at the time: He was never allowed to go anywhere without an appointed tour guide, the countryside in parts reminded him of France and in any case the country, in particular when compared to Japan, was not exotic enough to inspire his writing.
Roland Barthes' travel notes reimagined
In his new video piece "Sight Leak" (2022), Chinese artist Peng Zuqiang reimagines the notes of the French author Roland Barthes from the perspective of a local tourist. The black-and-white video shot in 16mm film show Peng's home city of Changsha in fragmentary snippets: a crowded discotheque at night, an urban beach at golden hour, inner city streets in the daytime. The nameless tourist gazes full of reverence out of the window of his hotel room, strolls through the streets or takes the cable car. We repeatedly hear voices coming from off-screen that in turn recount small observations in a fragmentary way. They tell of the long and warm handshake of the tour guide, and of the attractive factory workers who interrupt their work and look up to see who is passing by. The words are reminiscent of Roland Barhes' notes, which also recount encounters with good-looking workers, short, intimate glances exchanged or a fleeting smile, a (homo-) erotic longing pervading the lines. Other voices off-screen evidently reflect on the French author's deliberations, his in part prejudged view of China and its social structure.
In the further course of Peng Zuqiang's work, this outsider's gaze increasingly comes into focus. The nameless tourist looks into the camera time and again, challenging, expectant, yet without expressly interacting with the camera. Perhaps gazing is less about what I am projecting but more about what the other sees in my eyes, what they see about me," a voice then reflects from off screen, expanding the context of these deliberations to those viewing the work, themselves constituting a silent audience, entirely removed from the gaze of the nameless tourist. At the end of "Sight Leak" the reflections are contradicted in an almost ironically self-aware way: "You are totally overthinking. Maybe they are not looking at you at all" says one to the other, who can only laugh in response.

In other works such as for example "Keep in Touch" (2021) small interpersonal gestures and glances take center stage. The multi-channel video installation shows short, improvised scenes that Peng recorded with friends during an artist residency in Maine. Close-ups of hands cutting each other's' fingernails; a woman rubbing tiger balm onto her body, and two men exchanging energetically ambivalent looks without their meaning becoming entirely clear to the observer.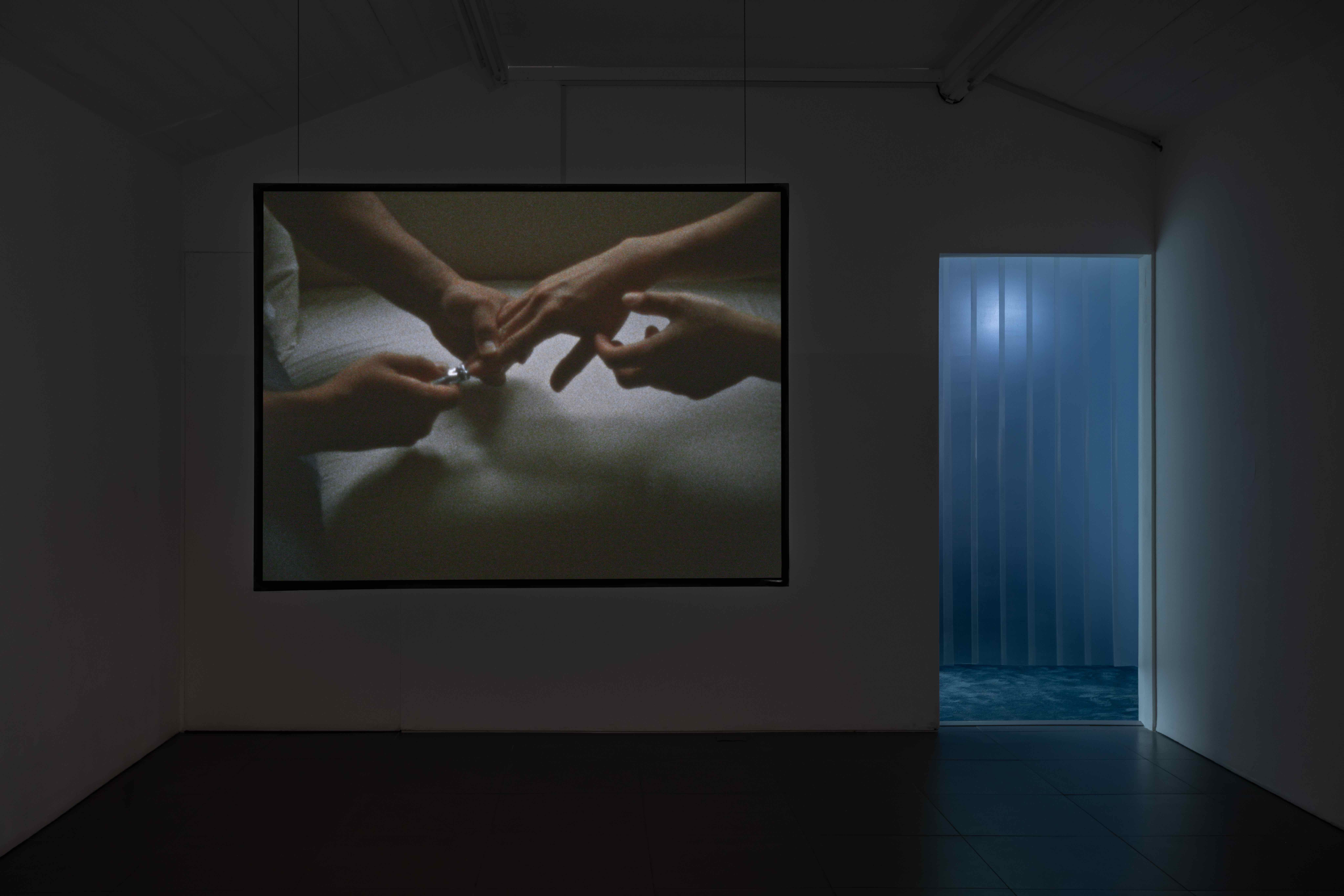 A milestone of new queer cinema: "Fresh Kill"
Peng Zuqiang chose the experimental feature film "Fresh Kill" dating from the year 1994 as the second film, staged by Taiwanese American artist and director Shu Lea Cheang. The screenplay for it was written by Jessica Hagedorn, herself a performance artist, poet, and author. "Fresh Kill" was a milestone in several respects: The film is regarded as an early example of new queer cinema, which in the persons of Shareen Lightfoot (Sarita Choudhury) and Claire Mayakovsky (Erin McMurtry) centers on two lesbian protagonists as a couple and parents in a matter-of-course fashion not seen in cinema previously. The film was equally influential for the hacker sub-culture beginning to emerge at the time, with its anarchic joy in pushing social and electronic boundaries – the term "hacktivism" is said to have been coined by "Fresh Kill". The film further provides a quite natural insight of an Asian-American perspective, which was rare in the 1990s.
"Fresh Kill" follows the daily lives of Lightfoot, Mayakovsky and their daughter on Staten Island, New York in a loose, associative way. The diversity of issues the film touches upon is considerable and appears more topical than ever: the destruction of the natural world, unfettered capitalism, a perfidious media landscape that even almost 30 years later under current circumstances still appears overwhelming, as well as a wild-dystopian New York City, in which the loud rantings of a homeless man are as important as the cultivated-abstract chitchat of the art world in the galleries and at the "Naga Saki", a fine dining restaurant where a mythical fish with puckered lips is served. Camerawoman Jane Castle captures the exuberant, experimental vitality of "Fresh Kill" in phenomenal images – a film as intoxicating as a drug.
DOUBLE FEATURE WITH PENG ZUQIANG
Wednesday, 30.11.2022, 7.30 PM at the SCHIRN SPACE. Free Entry.
Learn more