In an age of alternative facts and fake news, how can a work of art possibly be more convincing than a scientific report? These 10 artworks focus on the topic of the year: vaccination.
1. Alexia Sinclair, Edward Jenner's Smallpox Discovery
It all began in 1796 when British doctor Edward Jenner discovered that dairymaids who contracted cowpox never caught the dangerous smallpox disease – the "speckled monster", that killed hundreds of thousands of people every year. Jenner deliberately infected a young boy, James Phipps, with the milder cowpox and then tested whether it would make him immune to the more deadly variant: Luckily it worked! Alexia Sinclair captures this remarkable story in her series of staged images. Alongside Phipps and Jenner, a lady of the aristocracy donning a white wig reminds the viewer that diseases affect all classes and can have the same effect on everyone. The surreal-looking wild flowers in the interior scene are an allusion to the Chinese name for the disease: "heavenly flowers" as the skin lesions resembled flowers and the illness often led to death.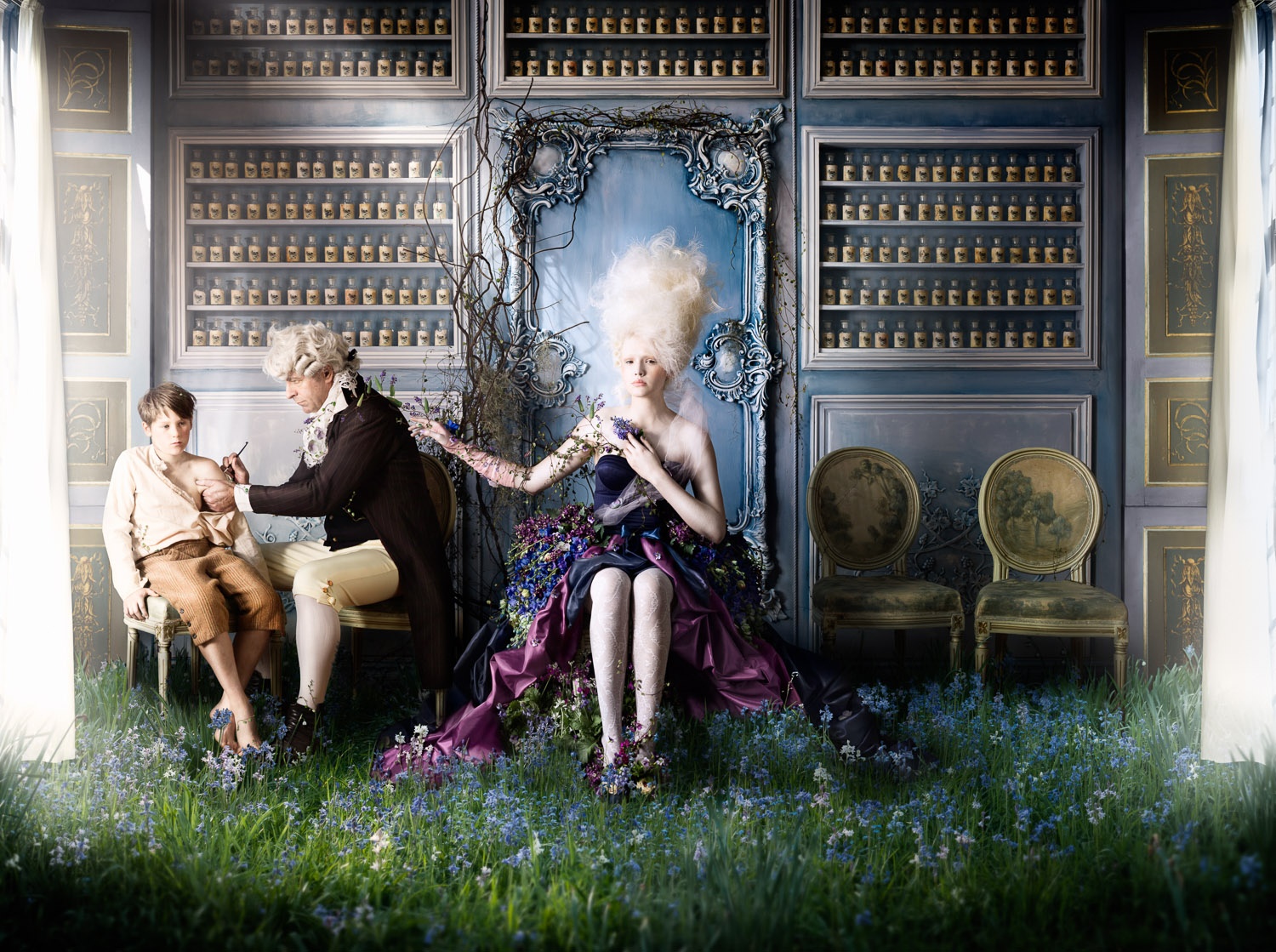 Vik Muniz, Flower – the Beauty of Vaccines, 2015
Brazilian artist Vik Muniz also takes up the association of pox with flowers. His work "Flower – the Beauty of Vaccines" looks like an enormous flower print, a carpet of roses, hibiscus or violets. But the unique floral shapes stem from liver cells that were treated with a smallpox vaccine. Together with a biologist and an MIT professor, Muniz designed a flower pattern from which they initially made a rubber stamp that was treated with a biological collagen substrate and moved to a petri dish. Subsequently, the living cells were added; they developed quickly and thrived on the collagen. Muniz photographed this synthesis after he had transferred the cells to plastic. The fascinating result is all the more surprising once the viewer realizes that the cells beneath the photo are live, that they move and fluoresce.
Diego Rivera, Vaccination, 1932
Strangely familiar yet irritating is this fresco by Diego Rivera that is part of the Detroit Industry Murals in which the Mexican artist addresses life and work in the American city. The panel portrays a child being vaccinated in a laboratory surrounded by the animals that supplied the serum. Rivera adapted the composition from Christian nativity scenes in which the baby Jesus is surrounded by Maria and Joseph and the Wise Men. Medical topics are precisely depicted in a large mural. The choice of subjects was motivated by Rivera's concern for people's general wellbeing and his unconditional belief in progress through scientific developments. So, the vaccination scene might be read as meaning that for Rivera medical technology was the new "saviour of mankind". Apart from this conceived religious slight there were other aspects people found objectionable and a major controversy was sparked when the murals were publicly unveiled in the 1930s.
Mauro Perucchetti, Vaccines as Love Serum, 2015
With his brightly pigmented resin sculptures Mauro Perucchetti would like to magic a smile onto the faces of children and assuage their fear of syringes and injections. His work "Vaccines as Love Serum" is part of the project "The Art of Saving a Life" that shows how vaccines have positively influenced the course of history. For this light-hearted work he combines two of his best-known installations: The "Jelly Baby Family" which stands for solidarity in the family and multiculturalism and the "Love Serum", a gigantic syringe with positive vibes for everyone. Perucchetti employs bright colors, clearly recognizable shapes and smooth, shiny surfaces to make his works as easy to understand as possible and to entice viewers – making a vague allusion to his models Andy Warhol, Jeff Koons or Piero Manzoni.
Brendan McCann, Met Gala Robe, 2021
As a large fundraising event for its Costume Institute the Met Gala has been attracting celebrities from culture and show business to the Fifth Avenue since 1948. However, as was the case last year on the first Monday in May 2021 there were no famous faces posing for photographers in front of the Metropolitan Museum in New York. But that did not stop New York artist Brendan McCann from coming up with his own gala topic: science. He designed an ensemble that alludes both to the pandemic and the launching of the eagerly-awaited vaccine. His outfit fashioned from everyday materials you can find all the "must-haves" for a corona vaccination: vaccination certificates, a syringe as an extravagant fascinator, a plaster and a handbag filled with Krispy-Kreeme donuts with which McCann refers to the free donut campaign for people who've been vaccinated. While the images of his shooting on the stairs to the Met go around the world McCann is already thinking about his outfit for the rescheduled Met Gala in the autumn. This time the slogan will be "In America. A Lexicon of Fashion."
Sean Caulfield, The Anatomy Table, 2017
The loss of public trust in science and the spreading of misinformation are phenomena that were around long before the corona pandemic. As early as 2017 Sean Caulfield addressed this difficult topic in his art. For "Anatomy Table he borrowed drawings Andreas Vesalius featured the father of modern anatomy featured in his major 16th-century work "De humani corporis fabrica libri septem" and combined them with contemporary prints that are loosely based on images of viruses but are purely fictitious. The conglomerate of historical and contemporary references as well as the mingling of empirical and imagined body images illustrates the complexity between empirical, scientific depictions and emotionally-charged expressions of the body.
Suckertom, All boys do cry, oh wait.... "Get vaccinated", 2021
More than 60,000 followers are fans of the creative and satirical posts of the Instagram page @suckertom. Using light-hearted photomontages that come close to crossing the boundaries of good taste he comments on contemporary events but also classics of pop culture. In the post "All boys do cry, oh wait…Get vaccinated" supposedly strong men are vaccinated. While the one clenches his teeth (Sylvester Stallone as Rocky) and another keeps a straight face (Chuck Norris), the response to getting a small prick in the upper arm climaxes in a hysterical collapse (Leonardo di Caprio as Romeo). Handkerchief anyone?
Mary Ellen Mark, Rubella's Lasting Impact on Adult Lives, 2014
For her moving series "Rubella's Lasting Impact on Adult Lives" Mary Ellen Mark portrays people born with the congenital rubella syndrome (CRS), also known as German measles. While in children who catch the virus, the symptoms are often mild, when mothers-to-be contract it, their unborn babies may suffer serious defects ranging from blindness, deafness and heart problems through to cognitive issues. Although the number of infections has fallen dramatically since the introduction of the vaccine in 1969 every year around 100,000 children are born with CRS. With the compelling images of Jimmie Carey and Damali Ashman Mark points to the importance of vaccines that protect against diseases like smallpox.
Anna Ancher, A Vaccination, 1899
Danish impressionist Anna Ancher is known above all for her small-format interiors and portrayals of women and children engaged in everyday actions. In 1899 she created a large composition with many figures that was shown at the Charlottenborg Spring Exhibition n in Denmark. It depicts mothers with their children who have been vaccinated or are waiting to be vaccinated against smallpox by a pediatrician. In 1810 vaccination against smallpox was made compulsory for all children under seven in Denmark. In 1980 the disease was declared to have been eliminated.
Kaisu Koski, Syringe Sequence #1-2, 2015-2016
How do you visualize the fears and notions of parents who are critical of vaccinations? Kaisu Koski explores this question in his multi-disciplinary body of work. He began his project by interviewing parents who are critical or wary of vaccination and then followed up on the findings through his art – always with the goal of communicating these prejudices respectfully and promoting dialog. The series of photos entitled Syringe Sequence # 1-2 shows medicinal plants cultivated in syringes; they represent Koski's response to his survey which revealed that many parents feel much more at ease with natural substances than with chemical ones. The series can be seen as a reaction to this appreciation of the natural and present fictitious types of vaccines that would possibly encounter greater trust and understanding.
CLUBWALK
DISTANT BODIES DANCING EYES
9 to 11 July 2021, the SCHIRN shows international music video art in 8 clubs in Frankfurt and Offenbach
Info & Tickets