New York City Downtown: a melting pot of the arts in the late 1970s and early 1980s. It was here that the Mudd Club opened its doors in 1978 – and became second home to Lower Manhattan's underground scene.
"Down-tooown!" blasted from the radio in 1964, as Petula Clark sang about the irresistible attraction of Downtown, particularly "when you're alone and life is making you lonely", and how "when you've got worries all the noise and the hurry seem to help". Since the singer was British, she probably wasn't singing about New York City, but the song expresses what, 20 years later, could only have applied to one downtown in the world: Downtown Manhattan or Lower Manhattan, which became a melting pot of the arts at the end of the 1970s and the place-to-be. It was not only DJs that the clubs hosted; there were also live bands, performances, exhibitions, film screenings and fashion shows – and the fashion was of course not just on the stage, but also worn in fancy outfits.
And in the Lower Manhattan underground scene, one club in particular became an institution: the Mudd Club. For Jean-Michel Basquiat it was virtually a second home. Whenever we think of the New York club scene, then it's generally the "Studio" that comes to mind: Studio 54. To this day the club of the late 1970s is synonymous with hedonism, drug-fueled excess, glamor and stars. Bianca and Mick Jagger, Diana Ross, Truman Capote, Arnold Schwarzenegger, Sylvester Stallone and – of course – John Travolta. For three years they all danced and celebrated at the "54", indulging themselves in the very hippest hedonism.
"New wave Glitterati" and "Poor Chic"
While in Uptown New York – Studio 54 was on 54th Street – all was glitz and glamor, with smoke machines to cloud your vision and a bit more besides, with confetti raining down from cannons, south in Downtown things were rather more intellectual and artistic. But no less legendary. Number 77 White Street in the TriBeCa district, to the south of SoHo and Greenwich Village, a few hundred yards from the Hudson River. It was here that the Mudd Club opened its doors in October 1978, founded by publicist Steve Mass together with curator Diego Cortez (who organized the exhibition "New York/New Wave" at the P.S. 1 gallery in 1981, soon considered a real milestone and featuring works by Basquiat and Keith Haring) and singer Anya Phillips.
So go
Downtown
Things will be great when you're
Downtown
No finer place for sure
Downtown
Everything's waiting for you..
Petula Clark, Downtown, 1964
The Mudd Club was the first nightclub in New York that also functioned as a gallery. The first club that "institutionalized" the melting pot culture that surrounded it and brought it together in one place. It wasn't actually planned that way; initially all Mass had in mind was a disco for punks. However, what was intended from the outset was that the Mudd Club would be a counterpoint, the downtown antithesis of the "uptown chic". It even adopted the very strict door policy of 54th Street, but turned it on its head so the "rich chic" was not welcome, "poor chic" had to be represented. The club welcomed a mixture of "local loft-dwelling artists and new wave glitterati", as Anthony Haden-Guest put it in his book "The Last Party: Studio 54, Disco, and the Culture of the Night".
In constant change
The downtown crowd consciously set out to be unpretentious. And it was precisely this that drew everyone from lawyers to suburban punks. The Downtown Manhattan scene of the late 1970s and early 1980s comprised a world of its very own. And it was a transient one, as the journalist and columnist Michael Musto describes in his homage to the district: Barely did you discover a new club than it was transformed into a pizzeria. But you only needed to wait 15 minutes and it became a club again. Roller discos suddenly turned into "Arab-Biker-Sushi-Bars". Just because it worked out. There was a demand for lasting stimulation. Clubs became showrooms, American Legion offices became clubs.
The only thing that was certain was that nothing was certain. The club "Area" changed its interior design completely every five to six weeks. Other clubs changed their décor every night. And no one questioned any of it as long as there were free drinks tickets, Michael Musto explains in his 1986 book "Downtown". Regulars were of course quickly jaded and hard to impress. They'd seen it all before, so new stimuli had to be provided. A video projection on the wall simply didn't cut the mustard, but when videos and live bands and fashion shows and art installations came together, it might catch people's attention and keep them dancing until the next free drink. The clubs reflected Downtown itself, this microcosm at the southern tip of the Manhattan peninsula. Here, life kicked off at midnight and only ended when everybody left.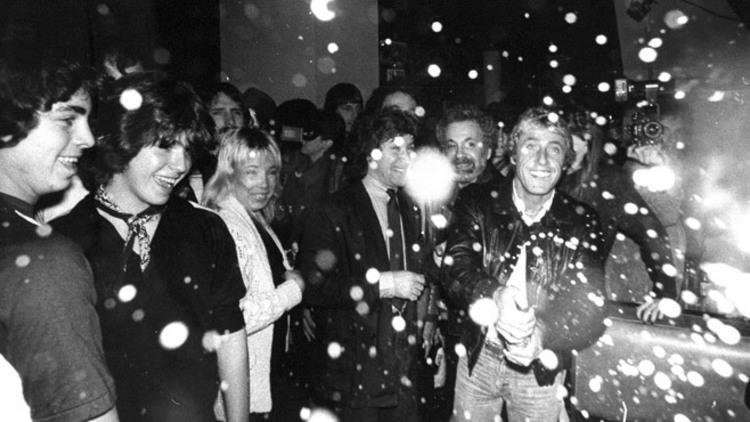 There was cross-fertilization between the party and art scenes. More than ever, the art scene of the day was about an interdisciplinary, cross-media approach. Jean-Michel Basquiat was the perfect example of this. During his short life, he found inspiration in such diverse areas as jazz and anatomy books and was active in a broader variety of media than virtually any other artist. He sprayed poetic messages on the walls of Lower Manhattan, created installations and collages, painted objects like fridges or door frames, designed postcards and T-shirts, worked as an actor, played music with his band "Gray" and performed as a DJ. He was part of a new generation of artists that mixed different styles and materials during the late 1970s and early 1980s, frequently referred to as Punk Art or synonymously also New Wave Art.
Club, Gallery and meeting point of the scene
The Mudd Club was the home of this new trend, and it was here that everybody came, be it from SoHo, Tribeca or the East Village. The stage hosted punk and new wave bands, while the DJs played reggae, punk and power pop; Blondie followed by Carl Perkins followed by James Brown. The artists, the creatives formed a world of their own. In the background the recession raged, New York was bankrupt, and the art and gallery scene was virtually inaccessible to young artists. So they founded their own galleries and clubs. Artists moved away from SoHo to the East Village, and Steve Mass recognized their potential. He understood that they might have little money, but that they made up the scene. He let them into the club for free. Reputations were made in Downtown.
Keith Haring was paid by Mass to simply hang out in the club. Until Haring had the bright idea of turning a room on the fourth floor into a late-night gallery, in which he curated an exhibition of around 100 artists, mostly friends of his, who were merely on the fringe of the art scene. This was followed by shows about photography and graffiti art. While in other so-called "art bars" art was merely discussed, in the Mudd Club it was made. Many artists helped to shape the Mudd Club's program – in the words of Andy Warhol: "At the Mudd Club mistakes could pass as experiments." Video and performance were the formats that were the first to take over the premises; trash culture and avant-garde existed alongside one another. The B-52s soon became the unofficial house band, and themed parties became a hit.
Be it blond nights, monster parties or 1960s revival parties, the Mudd Club quickly became one of the established greats in New York's underground scene. All the more so when it took the place of such venerable clubs as CBGB's or Max's Kansas after they closed. It was considered hip, often even elite. Many of those who are famous today met here. Alongside Jean-Michel Basquiat and Keith Haring, not to mention Nan Goldin, musicians David Byrne and Lydia Lunch, and counter-tenor Klaus Nomi. It was here that Jim Jarmusch showed his first films. Madonna was a regular, and David Bowie, Andy Warhol, Lou Reed and The Clash eventually switched from "54" to the Mudd Club.
DIGITORIAL ON THE EXHIBITION
The free Digi­to­rial provides you with back­ground infor­ma­tion about the key exhi­bi­tion aspects.
For desktop, tablet and mobile