The list of artists who have turned their talents to stage sets and costumes is a long one and probably reads a bit like a "Who's Who" of modern and contemporary visual art. We take a closer look at ten positions – from Marc Chagall and Niki de Saint Phalle to Wolfgang Tillmanns.
1. A cacophony of color: Natalia Goncharova, "Le coq d'or"
If the aim is to fathom the relationship between dance and modern art, then there's one name that cannot be missed: the Ballets Russes. The traveling ballet company was founded in 1909 by Serge Diaghilev, who was able to attract not only the most sought-after choreographers and composers for his productions, but also world-famous artists. Particularly groundbreaking were Natalia Goncharova's stage designs and costumes for the opera-ballet "Le Coq d'Or", which premiered in Paris and London in 1914. Her work for the stage stands out for a richness of color and a masterful combination of different trends – from Byzantine mosaics to trends in French painting of the day.
2. The magic of the triad: Oskar Schlemmer's machine aesthetics
Stuttgart, 1922: The audience of Württembergisches Landestheater must have been astonished when Elsa Hötzel, Albert Burger, and Oskar Schlemmer stepped onto the stage. In sculptural, colorful costume formations, whose individual elements are exclusively rounded in shape and thus suggest the physical possibility of rotation, they presented a previously unheard-of machine aesthetic masterminded by Oskar Schlemmer, one of the most important Bauhaus artists. He made use of unusual materials such as sheet steel, severely limiting the possibilities of movement. Thus, the ensemble was transformed into abstracted figurines, or as Oskar Schlemmer himself said: "colored and metallic sculptures [...] that move in the space, carried by dancers".
3. Life as a masked ball: Leonor Fini
Masks, which appear repeatedly in Leonor Fini's paintings, are something she also made for her personal use at masked balls in Paris in the 1930s and 1940s. She gained a notorious reputation among Parisian high society, whom she charmed with her avant-garde costumes complete with owl masks, gilded horns, or cat ears. Not only did Fini wear these dresses herself, she also designed the costumes for nearly 70 stage productions. Her designs for Oskar Panizza's "Liebeskonzil" were particularly sensational, as she ran riot with provocative costumes that not only revealed bare breasts, but also depicted God in ragged clothing. The performance was a great success and received awards from critics – although the audience of 1968 no doubt left the theater a little shocked...
4. Chagall, "Aleko", and "The Firebird"
At the end of 1941, Marc Chagall received his first commission to design scenery and costumes for the ballet stage, parts of which can also be seen in the current exhibition. His involvement in the production of "Aleko" even took him to Mexico City. Three years later, the American Ballet Theatre commissioned Chagall to create a set and costume design for "The Firebird," which resulted in three scene designs, a stage curtain, and more than 80 costumes depicting a fantastical world of floating human-animal creatures, demons, and two-faced figures. Working on the stage project brought an important ray of light into Chagall's life in dark times marked by the death of his wife Bella the previous year.
5. A symbiotic collaboration: Isamu Noghuchi and Martha Graham
Sculptor Isamu Noguchi and choreographer Martha Graham were linked by a collaboration that lasted over for over 40 years. Noguchi's sets, designed to be danced in, on, and around, often pushed the dancers to their limits. In the piece "Embattled Garden" (1958), the Garden of Eden is not an idyllic place, but a platform taken up as much by empty space as by vertically towering supports, sharing the stage with a tree of knowledge. Noguchi's designs suggest an abstract place and create an environment in which sculptural elements and dancers must interact.
I felt that I was an extension of Martha and that she was an extension of me…
Isamu Noghuchi
6. Niki Saint Phalle: Big in Kassel
Symbolizing the citadel of Athens and set against a blue horizon, the stage set for Aristophanes' "Lysistrata" created by painter and sculptor Niki Saint Phalle in 1966 both thrilled and enraged. She was invited to Kassel by theater director Rainer von Diez to design the set, costumes, and graphics for his production. De Saint Phalle quickly identified with the play, in which women conspire against their husbands and to stop the war – and ended up producing the actual main attraction of the comedy with her reclining "Nana," reduced to torso and thighs.
.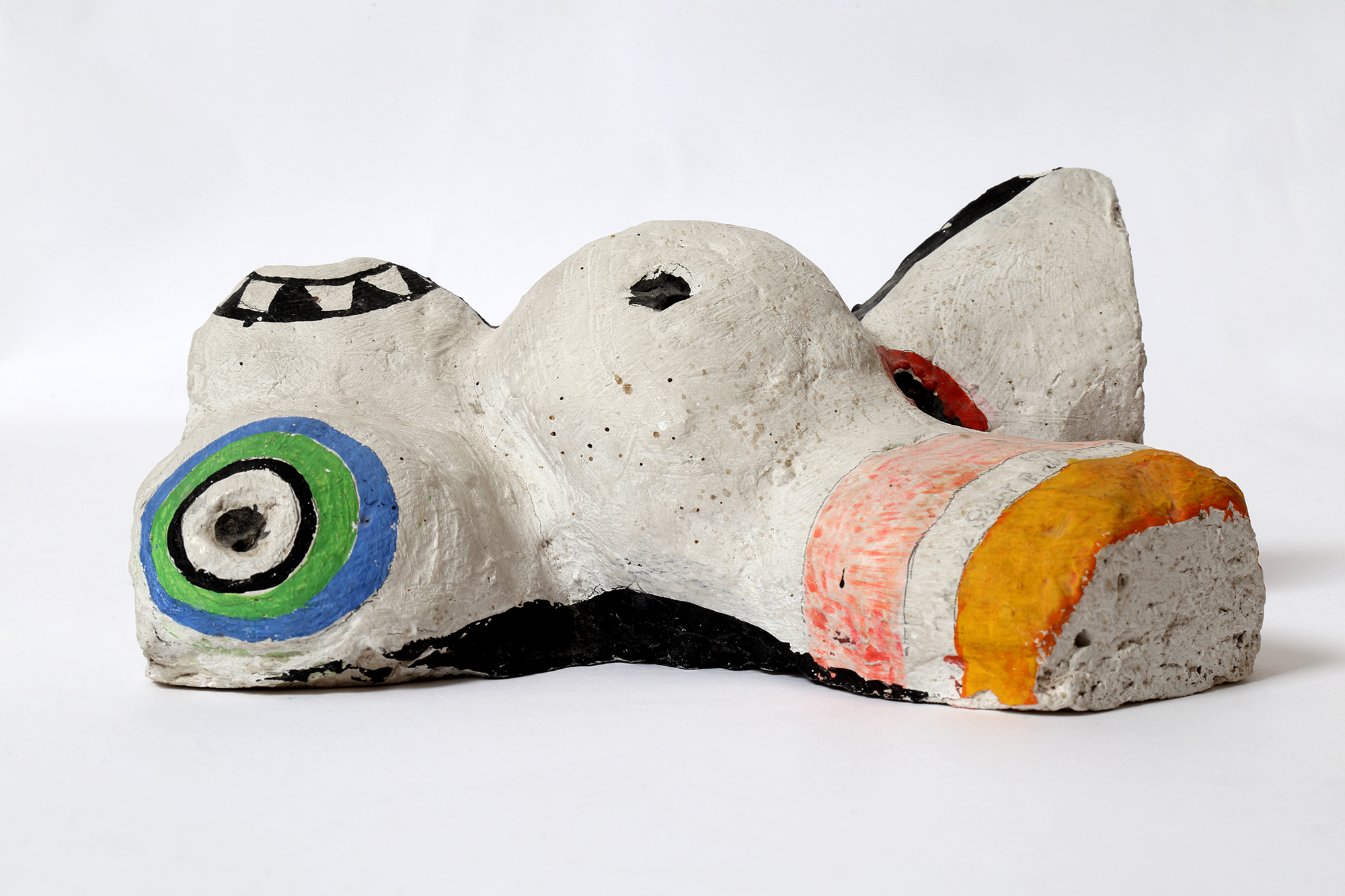 7. David Hockney and the love of Richard Wagner
David Hockney's passions for painting, music, and theater form an exciting symbiosis in his designs for opera. Vitality, color, and a sense of humor permeate his work for the stage. In 1986, he staged Richard Wagner's "Tristan & Isolde" in Los Angeles, declaring: "I don't just love Wagner, I'm addicted to his music. […] Staging nature seemed like an interesting challenge." While he had worked with drawings in earlier stage designs, he now built large models that he enveloped in the light and colors of California, in the spirit of Tristan, who in the second act curses "The light! The light! Oh, this light!".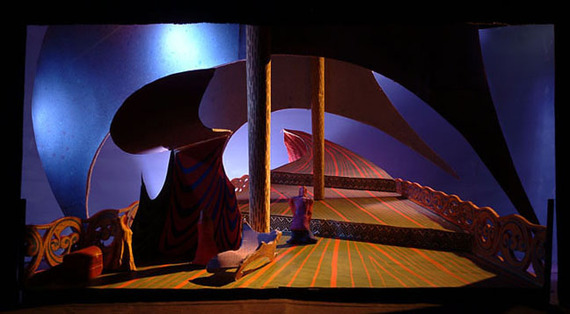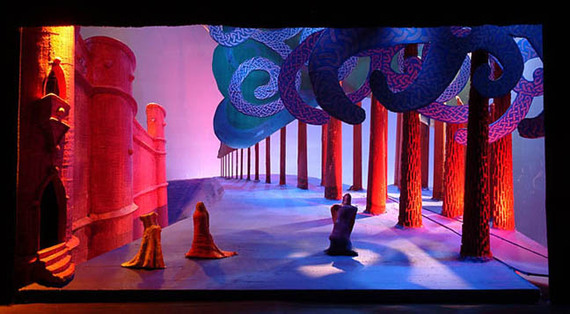 8. Tracey Emin's beds
Tracey Emin's installation "My Bed" made her a finalist for the Turner Prize in 1999. The work, which consists of an unmade bed and objects lying around such as cigarettes, vodka bottles, and used condoms, arguably served as the starting point and the inspiration for Emin's debut as a stage designer. In 2004, she was hired for Jean Cocteau's "Les Parents Terribles", which was shown at London's Jermyn Street Theatre. The first and third acts of the French play take place in the mother's bedroom, which is described as a "living-sleeping-working-having-a-nervous-breakdown room." How telling!
9. Immersive worlds: Wolfgang Tillmanns' "War Requiem"
With eight-meter-high LED walls and a huge projection screen, Wolfgang Tillmanns brought a fresh take to the stage design of Benjamin Britten's "War Requiem" in 2018. Abstract, color works, (celestial) landscapes, and images of the ruins of Coventry Cathedral after its destruction in a bombing raid formed an immersive experience together with the total of 120 singers and the powerful music. The set was complemented by an object made of smelted metal, around which over 150 pieces of rubble were assembled by the actors over the course of the play – a clear reference to post-war images of people clearing the rubble and rebuilding the ruins. But the stage design focused on one thing above all: allowing space for the music.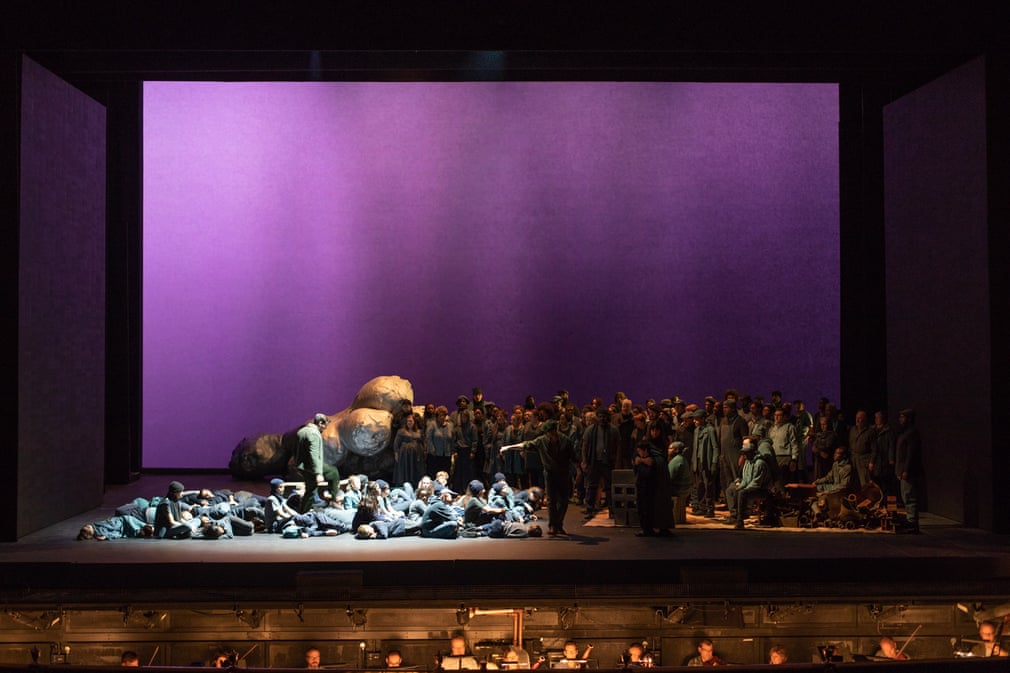 10. A Divine Comedy with Tacita Dean: the Dante Project
To mark the 700th anniversary of the poet's death the year before last, Dante's epic journey through the afterlife, "The Divine Comedy," was staged at the Royal Opera House in London. The set was provided by Tacita Dean, who portrayed Dante's three stages – Inferno, Purgatory, and Paradise – in a variety of media. The spectrum ranged from drawing to photography to film and was completed by an elaborate lighting design. In this way, a huge chalk drawing of icy mountains became an abstract exploration of light, color, and reflection, through which Tacita Dean succeeded in transferring the more than 700-year-old story into the present.