Everything shines, everything glitters! Inspired by John M Armleder's sparkling sea of ​​disco balls at the Schirn: Here are our 10 highlights of mirrors in art history.
1. John M Armleder, CA.CA., 2019
"My pictures are fully unreasonable," says John M Armleder about his own art. In his latest work in the SCHIRN rotunda, he mounted not one but 20 mirror balls and covered the surrounding windows with mirror foil. Hence you can look into an endless sea of mirror balls and thus be reminded of unreasonably dancing the night away, or be lulled into a "disco-Zen" meditation – as someone once described Armleder's art.
2. Yayoi Kusama, Infinity Mirror Rooms, 1965 until today
Ever since her childhood, artist Yayoi Kusama, also known as the "Polka Dot Princess", has had hallucinations. They primarily involve point and grid structures, which she brings to life in her works. Since the 1960s, the Japanese artist has been working on her series of "Infinity Mirrors" – mirrored rooms that observers can only ever enter alone. By stepping into those rooms, you immediatelybecome part of a universe in which lights, shapes and colors are reflected endlessly. This makes her "Infinity Mirrors" a popular subject for selfies: As the by now most photographed artworks in the world, they can be viewed for only 30 seconds at a time.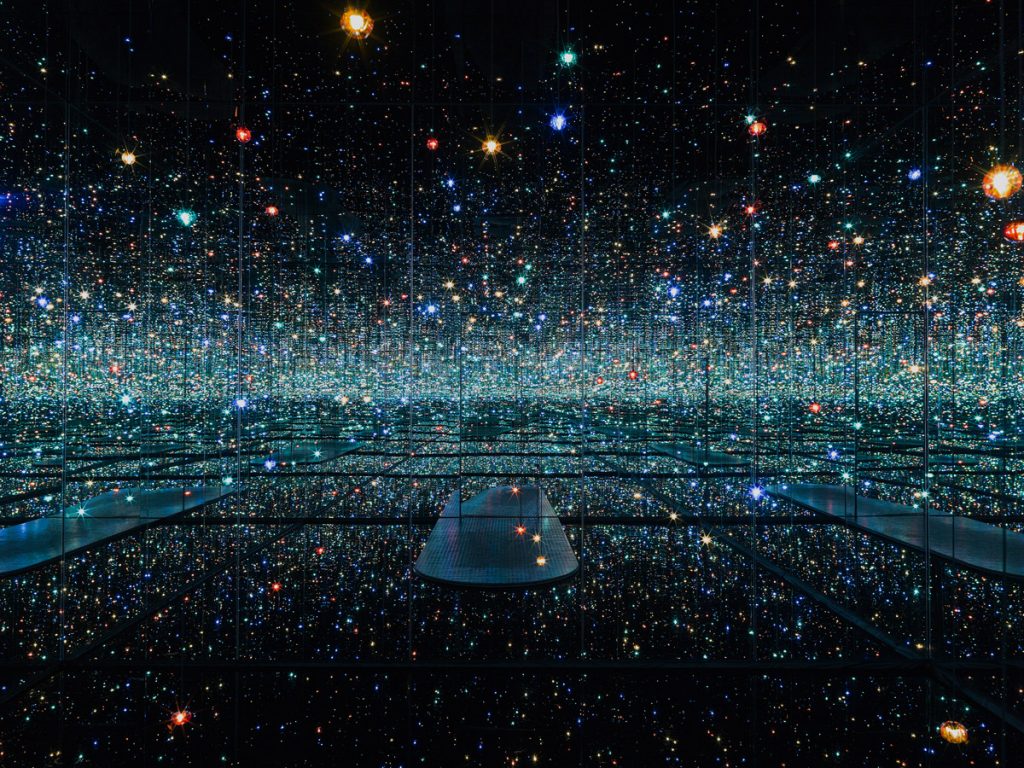 3. Jeppe Hein, Mirror Labyrinth NY, 2015
His works are pretty hard to miss: The interactive sculptures by Jeppe Hein, once an assistant to Ólafur Elíasson, can generally be found as moving installations in outdoor, public spaces. They always draw the observers in, however resistant they may be. After all, it's hard to escape your own reflection, or (luckily) the sculptures by Jeppe Hein.
4. Jan van Eyck, The Arnolfini Wedding, 1434
The most legendary wedding in art history? Jan van Eyck's "Arnolfini Wedding" of course! When it comes to that painting, most people debate on whether Giovanna Arnolfini is pregnant or not, but the circular mirror has also been the subject of many art historical discussions. The convex glass surface opens up the perspective, which is why these sorts of mirrors were called "Oeil de Sorcière" ("the sorcerer's eye") in the Middle Ages. In "The Arnolfini Wedding", it likewise opens up the spectator's point of view: You see alleged groomsmen, the painter himself, and a detailed view of the room. But what is missing from the reflection?
5. Anish Kapoor, Sky Mirror, 2001
"[Public art objects] cannot just be a fat turd on the lawn." When he's right, he's right. With his "Sky Mirror", therefore, artist Anish Kapoor simply brings heaven to earth. The six-meter-wide, ten-tons-heavy concave dish made of polished stainless steel reflecting the sky above can now be found in a number of public locations worldwide, such as the Rockefeller Center in New York or London's Kensington Gardens.
6. Andy Warhol, Silver Clouds, 1966
While we're on the topic of the heavens, let's continue with the next art superstar in the SCHIRN heaven: For the exhibition Glam! The Performance of Style in 2013, Andy Warhol's "Silver Clouds" (1966) floated around the rotunda, drifting right up to the glass ceiling. Warhol teamed up with engineer Billy Klüver to design the silver cushions. Originally they were to be floating lightbulbs, but when Klüver introduced Warhol to the newly developed material "Scotchpak" (a plastic film that can be heat-sealed) Warhol said "Let's make clouds", and filled the silver plastic with helium.
7. Nevin Aladağ, A little bit of Rock'n'Roll, 2011
There it is again, the mirror ball. Here it functions as a place to hang an acoustic guitar, as if the latter were just waiting to be played. Artist Nevin Aladağ is well known for observing her surroundings closely and prompting the observers' collective memory with her works: We all know what a disco ball looks like, a guitar too, and the title speaks for itself. But the kind of internal images their juxtaposition conjures up is still up to each individual themselves.
8. Caravaggio, Narcissus, 1598/99
Today a personality disorder is named after him and it's not uncommon to use the word "narcissist", when talking about someone who is particularly self-involved. This goes back to a tragic story from Greek mythology: According to Ovid, the young and beautiful Narcissus fell so passionately in love with his own image in a pond that he was unable to tear his gaze away and eventually died of despair over the unobtainable love that was his own likeness. Caravaggio depicts this tragedy as a sinister cycle: All we see is the young man and his reflection – everything else is black darkness.
9. Doug Aitken, Mirage Gstaad, 2019
There's actually nothing Doug Aitken can't do. He has illuminated museum façades, staged a happening on a train journey from New York to San Francisco then shot a film based on it, and enveloped the Schirn rotunda in a spherical fountain for a sound installation. This year, he encased an entire house in a mirrored façade. Like a mirage in the Swiss Alps, the reflective surfaces allow the house to disappear into its surroundings. Aitken calls this an "echo chamber" that endlessly expands nature in a feedback loop.
10. Monir Shahroudy Farmanfarmaian, Mirror Ball, ca. 1974
Artist Monir Shahroudy Farmanfarmaian is one of the most important Iranian artists of the present day and was a friend of Andy Warhol, to whom she gifted one of her mirror balls. She found the inspiration for her "Mirror Balls" in the mosaics of mosques and the everyday life in her home city of Tehran. After observing children playing football on the street, she began to work on her spherical mirror mosaics. The sparkling balls are not only reminiscent of long nights at the disco but are also designed to capture their surroundings and reflect them in a playful way.