Architecture, painting, literature and Punk: Catalonia in northeastern Spain looks back on a rich cultural heritage and has produced numerous artists, including Joan Miró.
Antoni Gaudí
Anyone visiting Barcelona can hardly avoid coming across at least one of his buildings. Among other things, the famous Catalan architect (1852-1926) is responsible for the Sagrada Familia, designed Park Güell and Casa Batlló, and is considered one of the most important representatives of Catalan Modernism. Many of his works are now designated UNESCO World Cultural Heritage sites. Gaudi himself carries the unofficial title of "God's Architect".
Rafael Guastavino
A contemporary of Antoni Gaudí, Rafael Guastavino (1842-1908) lived in Barcelona for several years, where he studied Catalan architecture and in particular the volta catalana or Catalan vault. This traditional, flat vault is made of individual bricks and was named for an architecture congress. It can be found not only in Catalonia, but also in other Mediterranean regions. Guastavino perfected this system: In 1881 he emigrated with his son to New York City, where he would soon become famous for his patented "Tile Arch System". The simple yet ingenious principle of the self-supporting arch made of numerous tiles can be found today in the city's elegant "Oyster Bar" in Grand Central Station, and in Bridgemarket, amongst other places. In 2014 the Museum of the City of New York devoted the exhibition "Palaces for the People" to Rafael Guastavino.
Albert Serra
Arguably the most important contemporary Catalan director, Serra is also one of the most extraordinary in today's film business. Albert Serra works with maximum reduction and likes using amateur actors at the scene of action. Dialogs are improvised, while perfect resolution and lighting are less important to him than intensity and a focus on the essentials, namely a good story and credible characters. Films such as "HISTÒRIA DE LA MEVA MORT" (STORY OF MY DEATH, 2013) have gained global recognition and received several prizes; his debut "Honor de Cavalleria" (2006) was also screened in a Double Feature at the SCHIRN as the favorite film of Marine Hugonnier.
Joan Miró
Catalan landscapes with their rural and often humble views were an early and seminal source of inspiration for the Spanish artist, and are often also named in the titles, for example "The Farm" (La Masia). Following his move to urban Paris, Joan Miró increasingly distanced himself from specific motifs in nature, but they still continued to inspire him, as evidenced in the abstract work "The Hunter (Catalan Landscape)", for example.
Salvador Dalí
The famous Spanish Surrealist and eccentric was also a native Catalan. Dalí was born in 1904 in Figueres close to the French border and spent his childhood there. Later he moved to Madrid and would subsequently spend time in Paris, London and New York, before finally returning to Figueres. Salvador Dalí died at the age of 84. His burial took place in the same church where he was christened and confirmed.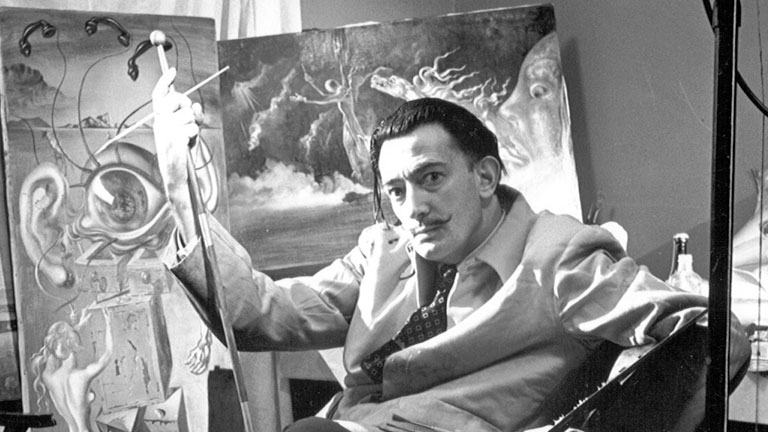 Pablo Picasso
Arguably the most famous Spanish artist of all time, Picasso was born in 1881 in Malagá, southern Spain. However, Catalonia always played a crucial role in his life and work: At the age of seven his family moved to Barcelona in Catalonia, which Picasso would always refer to as his true home and to which he always returned. Many of his friends were artists and authors from the region; he later learned Catalan – and especially in his early paintings the artist repeatedly featured the typical motifs of rural Catalan life.
Mercè Rodoreda i Gurguí
Mercè Rodoreda is considered a genius of Catalan literature. She is one of the few well-known authors from the region to write in Catalan. Her novel "La plaça del Diamant" became world famous as "The Time of The Doves" and was translated into over 30 languages. Rodoreda wrote the story whilst she was in exile in an associative narrative style. It is about a young woman in Barcelona before, during and after the Spanish Civil War.
Ramon Casas i Carbó
The native Catalan (1866-1932) was known, among other things, for his portraits of the intellectual, political and economic elite. As a graphic artist he shaped the development of Catalan Modernism, whose artistic avant-garde met in and around the bar Els Quatre Gats. Casas i Carbó divided his time between Barcelona and Paris; works from this period were presented, for example, in the SCHIRN exhibition "Esprit Montmartre".
Josep Maria de Sagarra
Born in 1894 in Barcelona, the poet is considered one of the most important and successful Catalan authors of the past century. In addition to novels he published numerous volumes of poetry, plays, as well as essays and articles, and translated important works by Dante, Molière, Gogol and Shakespeare. That said, Sagarra was also one of the most controversial Catalans: The nobility held it against him that he published unfavorable details in his stories from the life of the upper classes, while the circle of Catalan artists and intellectuals criticized him for supporting the regime at the latest when he accepted a special honor from Franco's government in 1960.
La Banda Trapera del Río
The Punk band founded in 1976 was the first in the world to record a Rock song in Catalan, "Ciutat podrida" or Rotten City, which became the hymn of the protest movement in the final years of the Franco regime. Though the band split up in 2010, it is still considered a significant representative of Rock català.