Are artists particularly creative when it comes to cooking? A look into the kitchens of the art world. This time with Tracey Emin, expert for caviar and chicken soup.
Alice Waters, chef and co-founder of the famous Cali­fornian slow food restau­rant Chez Panisse, summed up the close connec­tion between art and cooking: "...​they are both reac­tive and creative, imitating and adapting to each other." So is there a connec­tion between what happens in the studios of artists and what happens in their kitchens? Are there refer­ences to their work and person­ality? Are artists partic­u­larly creative when it comes to the everyday act of cooking? With the help of anec­dotes and photos about their kitchens and eating habits, we provide insights into the culi­nary worlds of well-known artists.
If "Mad Tracey from Margate", as she called herself in the Nineties, could see how today's Emin starts her days – at seven in the morning with a pot of freshly brewed green tea – and how she ends them – often by eight in the evening, in her own bed – then she would probably hardly recognize herself. Born in London in 1963, the artist was long known for her penchant for excessive partying, drinking, and socializing; the public knew her as a "maladjusted scandal artist". With radical openness, she addressed her experiences with abortion, sex, love, self-doubt and death in her textile works, essays, performances, installations and video works. The nomination of her now iconic work "My Bed" – a replica of the bed in which she had lain depressed for days after a break-up – for the prestigious Turner Prize in 1999 triggered media outrage, and Emin experienced years of criticism and rejection in art circles.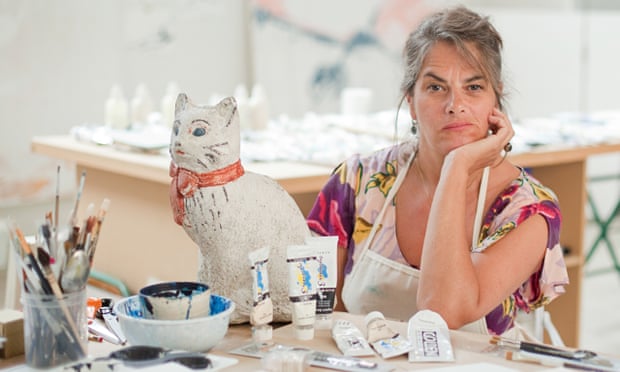 Today, however, Tracey Emin is a member of London's Academy of Arts and one of the best-known contemporary artists around. Her formal language has evolved in recent years, away from concept art towards painting and sculpture, yet an engagement with her own experience still remains central to her practice. While London was for many years the gravitational center of her life, Emin now divides her time between the British coastal town of Margate, where she grew up, and the Côte d'Azur – a reflection of the fundamental reorientation of her lifestyle. The objects in her famous installation – vodka bottles, condoms, cigarette butts – now seem like relicts from a different age, as she has long since given up the smoking and drinking and prefers to spend her nights alone.
Her relationship with food has undergone a similar transformation: After a childhood and adolescence marked by poverty and food scarcity, years of eating disorders, and a general disinterest in the subject – as recently as her forties she probably fasted for days because she thought she wasn't hungry – these days food has become one of the most important things in her life.
The road to that point reads like a journey of culinary heroics: With the first real money Emin earned as an artist, she bought a handful of oysters. She was in her early thirties at the time and had never tried an oyster, and suddenly she could afford as many of them as she wanted – at times, it may well have been up to a 100 a week. Her passion for caviar soon had similar proportions, and even today she asks her house guests to bring a tin of caviar as a gift instead of cut flowers. As her fame and income grew, the world of high-priced restaurants also opened up to her, with the quality of the food playing only a secondary role. Walking into Scott's in Mayfair, one of her favorites, or the notoriously booked-out The Ivy, being recognized by the maître d' and getting a table immediately – that to Emin was above all a sign that she had finally managed to leave the precarious living conditions of her childhood behind.
Tracey Emin's complex family history – her father Enver left her mother when Emin was seven years old – with two traumatic abortions, multiple failed relationships, childlessness, and the resulting fear of dying alone have all influenced her feeling for food in many ways. In 2005, she wrote in her autobiography "Strangeland" that food was not her strong point, as there was nothing more depressing that walking through a supermarket and filling a basket with meals for one. For this same reason, for a long time Emin refused to learn to cook. The only dish she prepared regularly was designed as a base for long, vodka-soaked nights: a slice of toast spread with butter and tomato sauce, and topped with four grilled and mashed fishfingers. This was accompanied by half a liter of strawberry-flavored Nesquik.
The death of her mother from cancer in 2016 marked a turning point in the artist's life. She took a year-long sabbatical, withdrew from the public eye, and began a new phase of introspection in which she made her peace with being alone and devoting herself entirely to art. The Emin of the present day eats a largely healthy diet, grows vegetables in the garden of her villa in the south of France, and even cooks – a little bit.
A close friend, British chef and art collector Mark Hix, reportedly tried with moderate success to teach her how to make paella and risotto, but Emin's favorite thing to cook is improvised chicken soup. She learned this from her grandmother, with whom she would stand and chat for hours in the kitchen while the latter cut up a bunch of seemingly random ingredients, then threw them into a big pot and made soup out of them. When Hix asked Tracey Emin to draw a dish that symbolized relaxation to her and would accompany a newspaper article, the artist drew herself eating soup with a chicken on the table. The healing and invigorating effects of chicken soup are well known, and perhaps Emin herself also identifies a little with the magical process of cooking soup, whereby with a little time and patience, the humblest ingredients can be transformed into something wonderfully complex.
What do the kitchens of the artworld look like?
From Frida Kahlo to Gilbert & George
What's cooking?