Since its first appearance, Super 8 film has exerted an irresistible attraction not only on Martha Rosler, but on a multitude of artists, amateur filmmakers and independent filmmakers alike. Here are some of the treasures of Super 8 film that are a must-see.
In his influential handbook for Independent Filmmaking (1972), US author and director Lenny Lipton writes that he first saw the term 'super 8' in British magazine Amateur Cine World in 1954, 'when it was suggested that 8mm film could be run horizontally rather than vertically through a modified camera', which would 'double the film area and change the aspect ratio'. Eastman Kodak launched this format at the New York World's Fair in 1964-65, and despite it being incompatible with existing 8mm cameras, its affordability and quick loading cartridge system meant it soon became popular with people who wanted to make home movies, and with artists. It also offered a way into filmmaking for those who became mainstream directors – Steven Spielberg began with a Super 8 camera.
It has long since been supplanted by digital cameras as the choice of amateurs who simply want to capture their surroundings, but its distinctive handheld jerkiness and washed-out palette (which comes from the film not being professionally colour-graded) mean Super 8 is still popular with artists, and fans of independent filmmaking. Here are some of the true treasures of Super 8 film since the format was pioneered.
Martha Roslers "Backyard Economy I & II (Diane Germain Mowing)", 1974
These two films by MARTHA ROSLER bring together artists' Super 8 filmmaking with the home movie culture around the format, as Rosler shot them in the garden of a modest house in a coastal community in San Diego County. Like many Super 8 films, they are silent and short, with all editing done in the process of filmmaking, as scene changes come when the operator stops pressing the trigger, which produces a distinctive flicker and jump cut. Here, Rosler points the camera at domestic labour, showing us women hanging out washing and taking care of the lawn, looking after her boy and their dog – the sense is that the new technology will not just change who gets to make films, but who gets to be seen, highlighting the gendered work that goes into keeping a home.
Derek Jarman's "TG: Psychic Rally in Heaven", 1981
Derek Jarman took Super-8 filmmaking as seriously as any other part of his practice, and as a result, produced some of the format's most celebrated works, from the 1971 short "A Journey to Avebury" to his feature-length "The Angelic Conversation" (1985). One of the best is "TG: Psychic Rally in Heaven", an experimental concert film of industrial group Throbbing Gristle. Just eight minutes long, it perfectly captures Throbbing Gristle's legendary intensity, with fiery-orange flickering shots of vocalist Genesis P-Orridge flashing in and out of focus. Super-8 was mostly a silent format, offering possibilities for filmmakers to add soundtracks: Jarman cuts up TG's "Second Annual Report" (1977), with menacing soundscapes, fragments of interviews and snatches of vocals: "give us raw material, make us feel uncomfortable". This film does exactly that, brilliantly.
Ursula Pürrer's & Ashley Hans Scheirl's "Super-8 Girl Games",1985
In one of the earliest works in their long and fruitful collaboration, Austrian filmmakers Ursula Púrrer and Ashley Hans Scheirl filmed themselves at home, in front of a simple blue and white backdrop. They bat a bolt of light between them like it's a tennis ball – obviously painted onto their unashamedly lo-fi film, and a potent symbol of the creative and emotional spark between them. With the whirring of the camera sounding throughout, this short work hints at the endless possibilities of low-budget queer filmmaking – which the duo would explore for years.
Guy Maddin's "The Eye Like a Strange Balloon (Odilon Redon)", 1995
Guy Maddin began his career in Winnipeg, Canada – an area that proved a hotbed for Super 8 filmmakers – and was one of the few directors to make a feature film using the format after achieving mainstream success, with "Brand Upon the Brain!" (2006). In this early short, made for a 1995 BBC series where filmmakers were asked to make works inspired by other artists, Maddin responded to a charcoal illustration by Odilon Redon for a French translation of Edgar Allan Poe's writings. Maddin used Super 8 for its old-fashioned aesthetic, clearly editing his footage post-shooting into a compelling, surreal narrative, in which a 'sub-aquatic locomotive engineer' and his son rescue an 'orphaned pre-adolescent girl-snail' from a train wreck. They both fall in love with her, before there are more surprises – it's a highly inventive work that helped to set up Maddin as one of the most intriguing filmmakers at the turn of the millennium.
Stéphane Marti's "Mira Corpora", 2004
Having started in Super 8 filmmaking with striking, violent queer shorts such as "Allegoria" (1979) and "Diasparagmos" (1980), French-Algerian visual artist Stéphane Marti has continued to explore his interests in the sacred, desire, the body and gender dysphoria in the format for decades. His longest film, "Mira Corpora", is typically fragmentary, using disorienting images and voiceover to tell a story about a Great Master of Order (Marcel Mazé) who seduces a young man with a running cinema projector, and carves extracts from Friedrich Wilhelm Murnau's "Nosferatu" onto their bodies. As always with Marti, it's a sensual feast, with songs and soundscapes, semi-abstract tinted shots of interiors and handheld scenes of people dancing or singing and, at its climax, having ritualistic sex in a cave – it's just as menacing as Murnau's foundational horror film.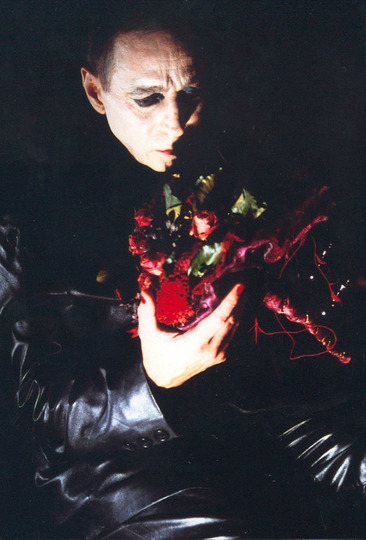 Karel Doing's "LA-AZ", 2013
Dutch filmmaker Karel Doing has worked with a variety of formats since his first short film, "Ultimatum", in 1991. That was shot on 16mm, which has proved more durable for artists than Super 8, which, by the 21st century, already nostalgic, with its aesthetic associated strongly with the 1960s and 1970s. Doing, who also works with archive material and has a keen interest in film history, shot new black-and-white material for "LA-AZ", catching the people such as the 'Armenian', 'Baby' and 'Driver' who made up Los Angeles in the early 2010s. In an effort to modernise the form, he also used HD Video, adding handwritten captions and a contemporary soundtrack by Comstock Jug Band, in one of the few Super-8 works of the decade not to be made up primarily of found footage.
Annie Ernaux's & David Ernaux-Briot's "The Super 8 Years", 2022
An intriguing companion piece for her 'collective autobiography' "The Years", Nobel laureate Annie Ernaux's "The Super 8 Years", co-directed with her son David Ernaux-Briot, combines the amateur films shot by her husband in the 1970s and 1980s with a contemporary voiceover to compelling effect. Philippe Ernaux – as he is usually named – is a powerful absence in the film, being mostly behind the camera and long dead, with Ernaux's monologue hinting at the ways her burgeoning literary career affected their faltering marriage. The places they captured have changed hugely: not just Allende's Chile, Brezhnev's Soviet Union or Hoxha's Albania, but also Chiado district in Lisbon, destroyed by fire in 1988, the Spain that opened up just after Franco's death, and London during the heatwave in 1976, "not yet transformed into Silicon Valley". As with "The Years", it's a thoughtful exploration of time and memory, and how the experience of the individual relates to wider historical events – it also, in its title, suggests that Super 8 is largely a historical phenomenon, and challenges those who would continue to use the material to find new directions for it.