A maltreated piglet runs into a pond before finding itself in a surreal underworld and encountering dogs in latex costumes. In the DOUBLE FEATURE with Marianna Simnett we delve into a world of grotesque experiences and explore the borders between our own body and that of the other.
The prologue lasts a good minute: A person walks purposefully along a field. He holds a bucket in one hand, the contents of which will soon become apparent, and in the other something like hedge clippers. On the soundtrack you hear pigs, who a minute later are also captured by the camera. While you slowly piece together the images in your head to form a narrative and begin to suspect what is about to happen, the edited film makes short work of it: In a close-up the piglet's tail is cut off. The screaming, bleeding creature flees onto the field, runs past some cows, and eventually ends up in a pond which quickly turns red from the bleeding wound. And you are drawn further still into the incredibly strange world of "The Severed Tail" (2022) by Marianna Simnett, a three-channel video installation, which she presented at the 59th Venice Biennale. In the next scene the piglet, now a person in costume and no longer a living animal, enters a surreal underworld that it will not leave until the end of the video.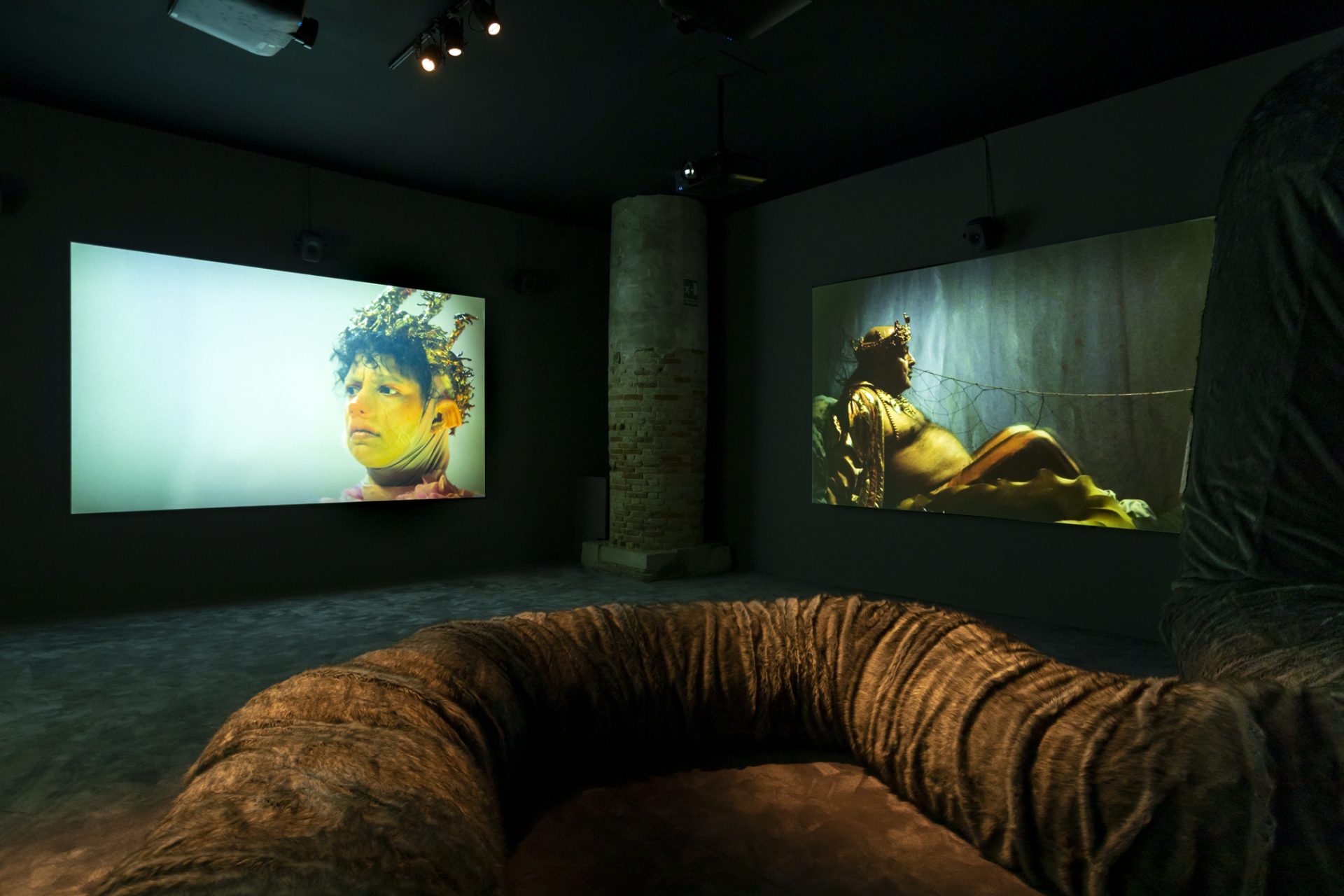 The border between one's own body and that of the other person
This underworld is inhabited by mythical and hybrid creatures which seem to have come from fairy tales or old mythological sagas. "No tears please, piggy. They're wasted here," a creature says to it before it sets out through the underworld full of fetishes. Here, the piglet which is still suffering from having its tail docked encounters dogs in latex costumes, crosses gloomy rooms full of other suffering creatures, and is forced to take part in a grotesque competition before it finally meets King Seahorse, who wants to take over its body. In many works Marianna Simnett addresses physical sensations, pains, and the border between one's own body and that of another person. "'The Severed Tail' is very much about coping and surviving in this current climate of extreme distance and alienation and finding fantastical wild possibilities within that, trying to find new ways of living, even if that means living not in your own body and taking on the guise of someone else," says the British artist in an interview.
Simnett has also performed such physical changes to her own body as part of her artistic work: In "The Needle and the Larynx" (2016) she had Botox injected into her larynx muscles – a procedure normally undertaken by men to make their voice sound deeper. Another work to explore medical procedures and feelings of discomfort with one's own body is "Blood in my milk" (2018), while in "Udder" (2014) the artist explores the intersection between nature and technology using a fully-automated dairy as an example of this.
Wounded animal bodies also feature in Marianna Simnett's "Prayers for Roadkill" (2022): For the stop-motion film the artist had the bodily remains of animals killed in road accidents collected, taxidermized, and stuffed. In the style of a children's film, Simnett places the lifeless bodies in a narration, which is more reminiscent of the body-horror genre – the animals repeatedly mistreat one another and lose body parts before finally dying, only for the horror to then begin again in another setting. So in Marianna Simnett's grotesque worlds of experience the bodies are always both: the source and foundation of all ecstatic sensations and simultaneously the cause of the biggest insecurity and isolation.
A useless farmer meets a useless cow
In Buster Keaton's "Go West" (1925), which Marianna Simnett chose as the other film, the story also revolves around an animal. In the silent movie comedy Keaton plays the young Friendless, a hobo in search of a better life, who has gone west full of hope. Through a series of unfortunate coincidences, the destitute man ends up in the American prairie and takes a job on a cattle ranch even though he has no previous experience of such work. The young cow Brown Eyes faces different problems altogether: Because she can't give any milk, she is moved to a field with the other animals set aside for slaughter. A close bond develops between Friendless, the useless farmer and Brown Eyes, the useless cow and the vagabond soon does all he can to protect the animal from certain death.
This parody of a Western uses humor to contradict everything that would normally dominate the typical Western through to the 1970s: steely masculinity, independence, and an instrumental relationship to the nature you are in direct contact with on a daily basis. In the same way that the hapless hobo Friendless protects Brown Eyes the cow from the dangers in her environment the cow can be said to make the man her protégé. A sense of unease about one's own body also runs through the film like a red thread, be it in the clumsy movements of Friendless, or the apparent uselessness of the animal whose sad gaze seems to reflect the misery of its existence (a useless farm animal destined to be slaughtered. It is only in the encounter between the two outliers that this unequal couple get an inkling of a better life. "My body is a cage," Peter Gabriel once sang, "You're standing next to me, My mind holds the key."