Who would have thought that the artist couple's house full of ceramics? A look at the fascinating pottery collection of Gilbert & George.
I thought I knew everything about Gilbert & George, or at least most things: I know where they eat out every night (outside of lockdown); I know their tailoring is impeccable, their taste eclectic and their sense of humour lewd. But I didn't realise, until SCHIRN MAGAZINE invited me to write this piece, that their home on Fournier Street in London's Spitalfields is packed with ceramics, which the artists have been passionately collecting for 40 years, almost the entire time they've lived there. It's as if the whole Georgian terrace is one enormous pot!
The collection is vast, both in scale and diversity of style and function: there are moulded brown jugs with protruding, gurning faces; tall, elegant earthenware vases; and intricately patterned, rotund studio pots. It's one of the UK's largest private collections of 19th-century ceramics and design, containing pieces by some of the period's most distinguished practitioners, including Thomas Backway Brannam, Christopher Dresser and Sir Edmund Elton. Gilbert & George have a rebellious taste for the unfashionable. "We like the 19th century because all the intellectuals around us hate it," they tell me over a video link from their home. "And we think they're wrong."
Stepping across the threshold of 12 Fournier Street would be like walking into the distant past, when London's houses contained more wood than a Tudor battleship. Every room includes a meticulously arranged presentation of ceramics. (Order, the artists believe, allows more space for creative thought.)
We like the 19th century because all the intellectuals around us hate it.
Gilbert & George
Each of the four floors displays a different artists's work: on the top is the idiosyncratic Elton Ware; on the second, majestic Dresser vases; on the first, Brannam art pots; and on the ground floor, Watcombe tableware. Gilbert & George are interested in what the vessels say about their makers' philosophies. From Dresser's insistence on industrial production to Elton's handmade, imperfect approach, they're fascinated by the works' moral dimension. "It depends on your background and education as to what a vase means," says George. "It can be interpreted in many, many different ways."
Gilbert & George are interested in the moral dimension of ceramics
The last 15 years have seen a resurgence of interest in Dresser's work, particularly, following high-profile shows at Cooper-Hewitt National Design Museum, New York, and the Victoria & Albert Museum, London. The Glasgow-born artist popularised an aesthetic-led approach to design and introduced sleek Egyptian, Japanese and Moorish elements to his household and ornamental objects. Elton sought a more handmade quality, producing over-stated, camp jugs complete with opulent craquelé (crackle) glazes in liquid gold.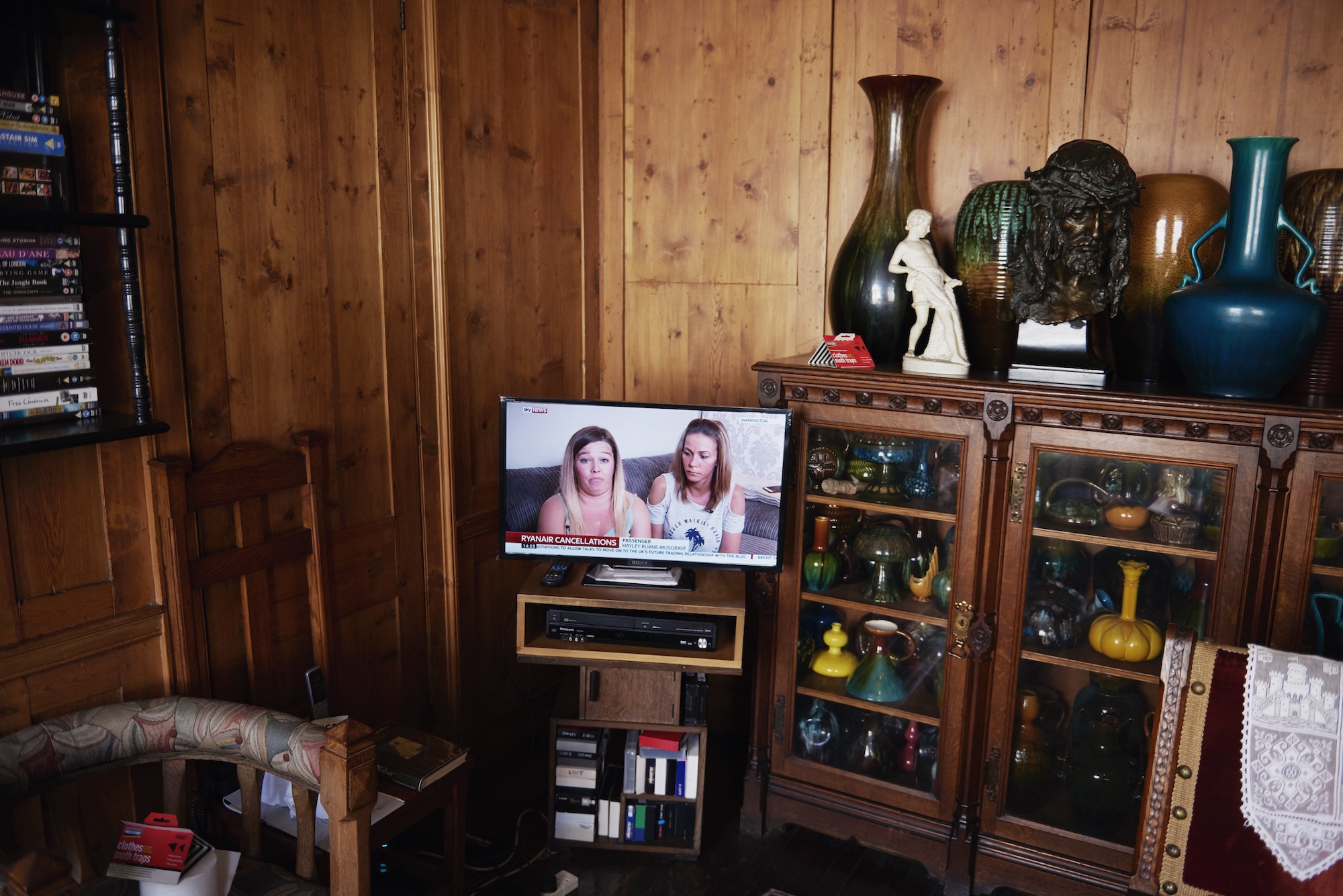 There's a neatness and control to Gilbert & George that they have maintained for their entire career, and everything in their world is attached to an origin story that may or may not be true. In 1979, they replaced their obsession with cinema (the last film they saw in theatres was "The Deer Hunter", 1978) for shopping. They would scour antique stores for pieces from the arts and crafts or aesthetics movements, spending money that they didn't have. The artists themselves are full of contradictions – ordinary and strange, relatable and distant – and undoubtedly revel in the ways in which their mythology, dynamic and lifestyle are confusing and amusing to writers like me.
A collection of this magnitude belies a passion beyond the performative
A collection of this magnitude belies a passion beyond the performative to reveal something about the artists that, perhaps, their works do not. Makers like Dresser or the neo-gothic architect and designer Augustus Pugin are Gilbert & George's artistic heroes. They offer a connection to the past that can inform the present and the future. "Pugin gave so much meaning to his life and creations," says George. "But we never look back," adds Gilbert, in a paradoxical admission. "The journey is still going on, non-stop, every single day."