14 April 2019
About overwhelmingly large balloons, golden aliens and outsized spiders: 10 sculptures that outgrew the artists who made them.
Bruno Gironcoli's shiny sculptures in gold, silver and copper not only stand out for their alien-like enigmatic character, but also and quite simply because they are huge. We took this as a prompt to hunt for other monumental artworks – and found many of them. Here is our selection of the most impressive XXL-sized sculptures.
1. Anish Kapoor, Leviathan, 2011
Bang. There it is: the monster. Cumbersome, inflated, like a growing tumor. 38m high, 100m long and 70m wide – Anish Kapoor's "Leviathan" (2011). A red PVC tube expanded into the space of the light-suffused Grand Palais. Those who entered its interior found themselves in a giant blood-red, veined balloon. With his expansive works, Kapoor consistently wins the attention of the art world, like most recently in 2018 at the Museum Serralves, where his black hole "Descent into Limbo" (1992) swallowed the unsuspecting museum visitor.
2. Niki de Saint Phalle, SHE – a cathedral, 1966
Please, walk on in. Niki de Saint Phalle's sculpture "SHE – a cathedral" takes the form of a reclined woman into whose depths the spectators walk, entering through the vagina. It is considered a milestone in museum history – a gigantic female body, which almost burst out of the rooms in Stockholm's Moderna Museet in 1966 and was the subject of much attention at the time.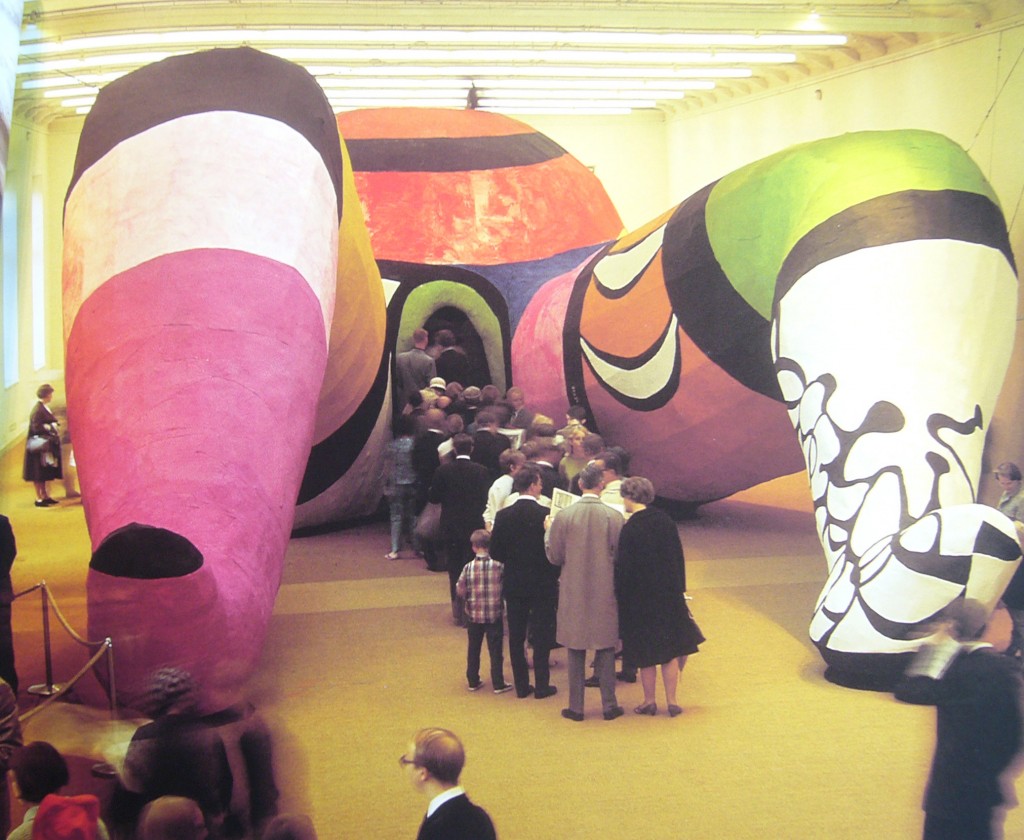 3. Erwin Wurm, Herr Krause kommt nach Hause nach der großen Sause, 2007
Poor old Herr Krause: Barely has he left the idyll of his little townhouse before it's turned upside down. "Humor is a weapon," Erwin Wurm once said. This time, his targets are the representatives of the respectable middle class. For the exhibition "The Ridiculous Life of a Serious Man, the Serious Life of a Ridiculous Man" at the Deichtorhallen in 2007, Wurm produced this life-size work in the style of a prefabricated home.
4. Franz West, Untitled, 2012
Please touch! Like friendly giants, Franz West's colorful, worm-like sculptures invite the visitor to climb and sit on them, in line with the artist's motto: Art should be accessible, ideally dissolving the boundary between art and life. For the student of Bruno Gironcoli, the works are normal parts of reality, quite in contrast to the people around them. As Franz West once said to a friend: "You know what, I'm really the only normal person I know."
5. Isa Genzken, Rose, 1997
That must be true love: A larger-than-life rose that never withers. By contrast any Valentine's bouquet would look pale. Concept artist Isa Genzken first exhibited her giant flower in 1993 in Baden-Baden and again in 1997 in front of the new Leipzig Trade Fair site. Two further replicas followed. Genzken's sky-high sculpture not only reverses the proportions of its surroundings, but also appeals to the humanity of the viewer. In 2016, the last replica fittingly found its place in New York's Zuccotti Park, which last landed in the media as the center of the Occupy Wall Street Movement in 2011.
6. Walter de Maria, The Lightning Field, 1977
For more than 5 years Walter de Maria was said to have spent traveling by truck round California, Nevada, Arizona and Texas before deciding to arrange 400 stainless steel rods in a grid 18.5 km from the continental divide, that The distances are measured precisely and the rods are supposed to withstand winds of up to 180 km/h. But when and whether lightning strikes remains pure coincidence and happens rarely. Rather, Walter de Maria, who is known for his monumental Land Art, leaves this up to the unpredictable forces of nature.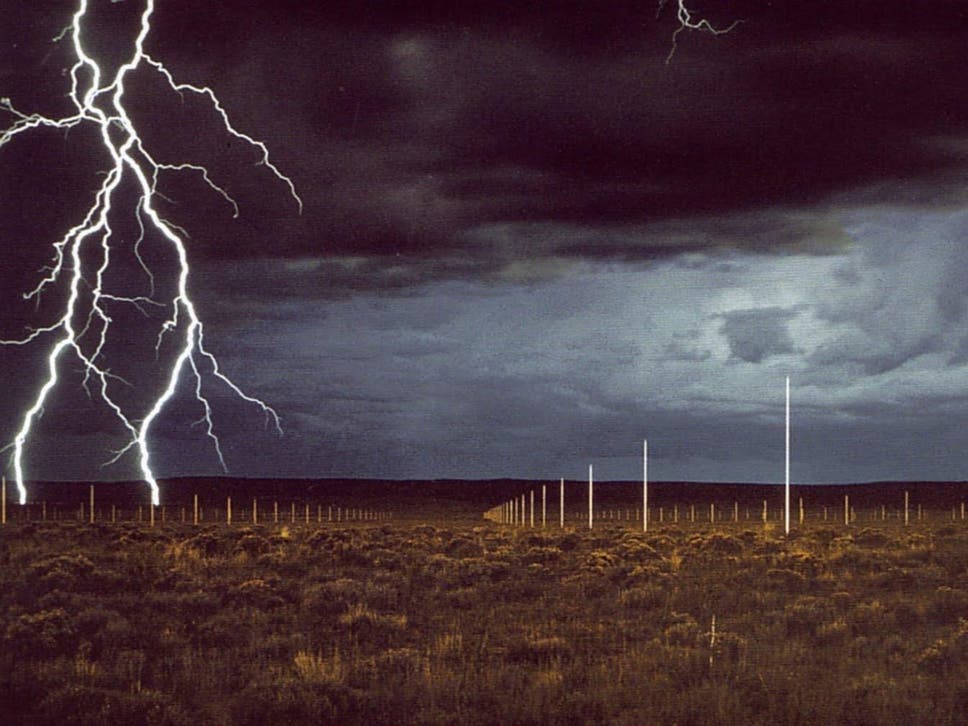 7. Louise Bourgeois, Maman, 1999
Louise Bourgeois' "Mamans" measure up to nine meters and can now be found in art collections all over the world. While spiders – regardless of their size – for many tend to invoke horror, disgust, or even fear for one's life, they never represented a threat for Louise Bourgeois. On the contrary: Her mother, who always provided a sanctuary during her childhood, was a weaver and has thus often been depicted by Bourgeois as a spider or a daddy longlegs. For her, spiders symbolize a guardian, protector and provider.
8. Katharina Grosse, The Horse Trotted Another Couple of Metres, Then it Stopped, 2018
"The moment when we stop our ritualized, rhythmical movements, your vision opens up to something you hadn't seen before," Katharina Grosse once claimed. And she successfully managed that when she hung more than 8,000 square meters of wide, spray-painted strips of material in the high gallery rooms of Carriageworks in Sydney. As previously in her early works, here she donned the spray gun and wrapped the industrial charm of the old railway yard in a psychedelic explosion of color.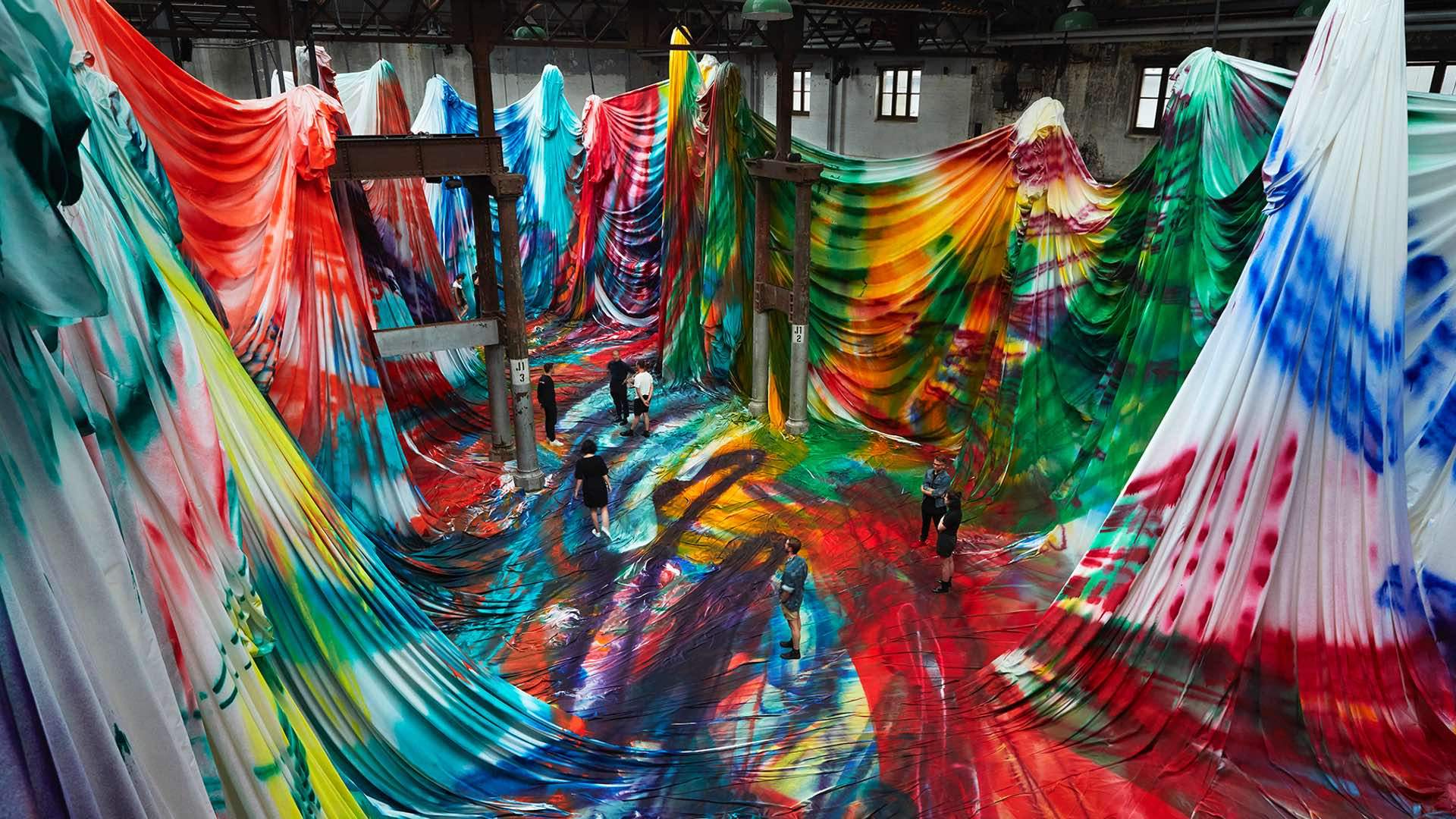 9. Damien Hirst, Demon with Bowl, 2017
Damien Hirst spent almost an entire decade working on the collection of works known as "Treasures from the Wreck of the Unbelievable" for his Venice exhibition in 2017. The 18-meter-high sculpture "Demon with Bowl" is just one detail from it, showing a headless male body with corals and branches sprouting from the otherwise flawless figure. Staged as a fictitious treasure hunt in line with Damien Hirst's well-known motto "more is more", the show developed into an enormous spectacle – complete with a scandal and Netflix documentary.
10. Phyllida Barlow, Dock, 2014
The name may not be familiar to everybody, but she is undoubtedly one of the greats in the contemporary art world and taught world-renowned artists such as Tacita Dean and Douglas Gordon: Artist Phyllida Barlow, who just filled the SCHIRN rotunda with colorful banners in 2018. Her "Dock" piece also reflects Barlow's critical enquiry into exhibition spaces: Disorderly (everyday) material takes over the room, filling it with immediate presence.