What are the top ten Sudanese films? Curator Larissa-Diana Fuhrmann has compiled a selection of classics and new releases in Sudanese cinema that provide an insight into past and present realities in Sudan.
1. "Tajouj" (1977) by Gadalla Gubara
"Tajouj" is the first feature film produced in Sudan and involves a tragic love story between three people in a remote village in the east of the country. A young man named Mohallak falls in love with his cousin Tajouj and confesses his love to her with a musical interlude. Although his uncle, Tajouj's father, initially rejects the marriage, he eventually consents to their young love. In the meantime, though, Tajouj has a new suitor, which fuels Mohallak's jealousy. Events come thick and fast, and the drama takes its course. When the situation finally escalates, Mohallak has to leave the village to become a wandering bard. The film is based on author Osman Mohamed Hashim's romantic novella, which is considered the first Sudanese novel.
Director Gadalla Gubara has gone down in history as the very first filmmaker in Sudan and assisted Leni Riefenstahl during her time in the country. The filmmaker's archive was digitized postmortem as part of a Sudanese-German film project, and the film was thus made accessible to the general public again.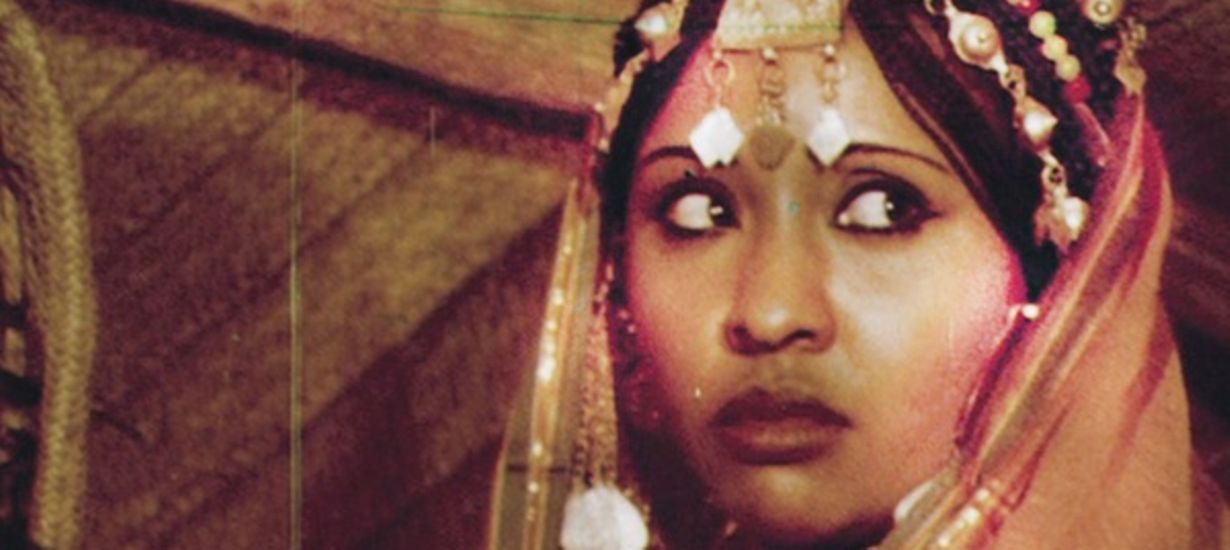 2. "Jamal" (1981) by Ibrahim Shaddad
The short film "Jamal" is a classic by Sudanese film pioneer Ibrahim Shaddad. The black-and-white film tells the story of a camel that runs a sesame mill, whereby the animal functions as a metaphor for excessive work and the constant desire for freedom. The plot, which at first seems thoroughly banal, thus takes up a profound theme, namely the existence of being.
Born in 1949, the director was educated at the Babelsberg Film University in Germany and has dedicated his life to Sudanese cinema and its preservation to this day. "Jamal", as well as Ibrahim Shaddad's other films, were censored for many years by the Sudanese government. The story thus also tells of his tireless struggle against constraints, repression, and the externally imposed limits of what is possible.
3. "Beats of the Antonov" (2014) by Hajooj Kuka
The documentary "Beats of the Antonov" deals with the violent conflict in the southern regions of the Blue Nile and the Nuba Mountains. Here, the director focuses on the role of music in helping the affected communities to take care of their cultural and spiritual preservation in the face of the ongoing conflict. The Sudanese government, based far away in Khartoum, uses converted Antonov cargo planes to bomb the areas (supposedly) occupied by rebels. Immediately after the bombs hit, residents gather and use their voices and instruments as tools against the violence and terror, so the sound of the planes is followed by communal music-making and singing. Ethnomusicologist Sarah Abunama-Elgadi (also known from the band Alsarah and the Nubatones) accompanies the filming and places the phenomenon in a larger discourse of cultural resistance against oppression.
The film was made over a period of two years and is one of the first Sudanese films to bring the country's cinema back to an international stage after a long hiatus.
4. "Nyerkuk" (2016) by Mohamed Kordofani
In the feature film "Nyerkuk", twelve-year-old Adam loses his family in an air raid. Rendered homeless, the child must fend for himself for the sake of his survival and future. He is thus left with only one option – to move to the city and find work to keep his head above water. However, the boy finds it difficult to find decent employment in the urban center, and is eventually hired by a professional thief and trained as a burglar. Together with other children, he breaks into the houses of rich city dwellers and earns his living this way. However, his criminal success makes him the target of envy, and he also suffers from the violence inflicted by his boss, so he ultimately decides to free himself and make a new start.
Director Mohamed Kordofani thus points to various conflict hotspots in the country – war, social division, and economic grievances. His production company has been enriching the Sudanese cultural scene for almost ten years, producing films dedicated to a range of socio-political issues.
5. "Akasha" (2018) by Hajooj Kuka
"Akasha" gives a humorous insight into 24 hours in the life of a couple between love and violence. Revolutionary soldier Adnan has earned some time off after shooting down a plane in combat, but he is privately torn about his love for his long-term girlfriend Lina and the AK-47 Kalashnikov he has named Nancy. Lina has had enough and throws her faithless boyfriend out of the house they share, but Adnan gives no thought to how he can win Lina back. There is only one thing on his mind: how to retrieve Nancy, who has remained in the house with the rest of his belongings. Absi, a pacifist, joins him, and together they try to save Nancy.
Before the film shoot, director Hajooj Kuka taught acting at a local youth center, and it was there that he met Mohamed Chakado and Kamal Ramadan, whom he later cast as the main actors. Despite the limited budget, the team manages to tell a humorous story about love in times of civil war and to surprise their audience.
6. "Khartoum Offside" (2019) by Marwa Zein
The intimate portrait titled "Khartoum Offside" tells the story of a women's soccer team in Sudan. Women have been successively deprived of their rights by the government since the 1980s, and this likewise applies to participation in sporting activities such as playing soccer. Charismatic coach Sara Jubara is looking for ways to make the women's biggest dream come true – to take part in the Women's World Cup. The team, made up of players from Sudan and South Sudan, shows how a shared passion can unite women in the fight for justice and recognition. Shot over four years, the film shows how the team, despite the ban on women, plays soccer and ultimately achieves their goal of being officially recognized as the Sudanese women's national team. Yet time and again they encounter fierce resistance.
In "Khartoum Offside," director Marwa Zein tells of a feminist struggle that she herself also fights every day anew.
7. "Talking about Trees" (2019) by Suhaib Gasmelbari
The film "Talking about Trees" by filmmaker Suhaib Gasmelbari follows the efforts of four retired filmmakers: Ibrahim Shadad, Manar Al Hilo, Suleiman Mohamed Ibrahim, and Altayeb Mahdi. Their goal is to reopen an outdoor cinema in the city of Omdurman, despite decades of political censorship and inefficient bureaucracy. Since the 1980s, art and cultural events have been systematically restricted by the government, bringing the once vibrant cultural landscape to a virtual standstill. Yet there have always been artists who have rebelled against the repressive system, and these include the group of former stars of the Sudanese film scene. The poetic portrait shows the friendship of the men, who are united by their passion for cinema.
At the same time, Gasmelbari also tells his personal story as a filmmaker in Sudan rebelling against a political system of destruction.
8. "You Will Die at Twenty" (2019) by Amjad Abu Alala
"You Will Die at Twenty" is set in a fictional village on the Nile River in Gezira State, Sudan. The film begins with new mother Sakina being told by a Sufi mystic after the birth of her first son Muzamil that her child must die at 20. From that point on, Muzamil's life revolves only around this prediction and whether it will come to pass. Although he tries to live his life like other children, the prediction hangs over his family like a sword of Damocles, and interpersonal relationships in his life fail again and again. As a teenager, he meets Suleiman, an outsider living on the fringes of the village community after living abroad for years. Suleiman uses a projector to show Muzamil films in his house, allowing him to glimpse the world outside the confines of his home. Muzamil ultimately decides to take his fate into his own hands and not to submit to the prediction. The only question is whether he can escape his fate.
Director Amjad Abu Alala incorporates a large part of his personal life story into the film and focuses his attention on a number of difficult social conflicts in the country.
9. "A Handful of Dates" (2019) by Hashim Hassan
The film adaptation of the short story of the same name, "A Handful of Dates" by Tayeb Salih, tells the story of a young boy. Meheimeed lives an idyllic childhood in a mystical village in northern Sudan. He feels an unshakable love for rural life and his grandfather Hajj Ahmed, who is his moral role model and owns large estates in the area around the village. Then, however, Meheimeed makes the painful discovery that life is full of unexpected surprises. His view of the world changes fundamentally when he finds out the reasons for his grandfather's wealth, and he thus has to say goodbye to the ideal of his grandfather as a role model.
Sudanese-Mexican director Hashim Hassan, who lives in California, shows the cross-cultural/generational gap between Meheimeed and his grandfather, as he knows it from his own father and himself. He uses the film to explore this theme in a different context.
10. "Al-Sit" (2020) by Suzannah Mirghani
The short film "Al-Sit" follows 15-year-old Nafisa, who is confronted with an arranged marriage in her family's village. She is actually in love with a boy named Babiker, but her parents have other plans for her. They have chosen Nadir, a young businessman, to marry their daughter, believing they can make the better decision for Nafisa's future. In a society where families are so involved in the life plans of their members, it is difficult to escape such decisions. Her grandmother – Al-Sit, the matriarch of the family – also knows what Nafisa's future should look like. But is that what Nafisa wants?
In this short drama, filmmaker Suzannah Mirghani realizes a dream: The film crew consisted of 99% Sudanese, showing that the Sudanese film scene is gradually blossoming again after decades of repression.
AMNA ELHASSAN. DECONSTRUCTED BODIES – IN SEARCH OF HOME
Novem­ber 4, 2022 – February 12, 2023
More Info